New research study on the topic of AI in human resources management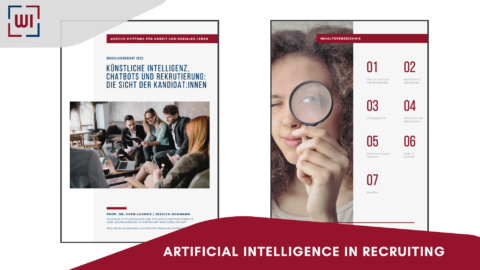 Companies are increasingly using artificial intelligence (AI) to work more efficiently in the area of human resources (HR) and to find suitable personnel. For example, a chatbot can be useful for applicants looking for a job to get an idea of the job profile in advance and assess their own chances.
In a project funded by the Adecco Foundation for Work and Social Life, we have been researching these topics and have now completed our three-year project on "Artificial Intelligence, Chatbots and Recruitment". We conducted numerous interviews with potential users and stakeholders in the HR sector, as well as with AI experts, to investigate the relationship between humans and machines in the HR sector and were able to gain valuable insights into the acceptance and ethical aspects of these digital systems, among other things.
The results have now been summarized in a report that is relevant for both practitioners and academics.In order to continue the research on digitalization at our chair and to tie in with the Adecco-funded project, the Dr. Theo and Friedl Schöller Foundation is funding, among other things, the establishment of the research lab on the future of work from February 2022.