Schöller-Team at the ICIS 2019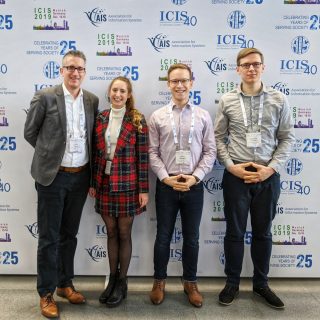 In December, the team of the Schöller Endowed Chair participated in the International Conference on Information Systems (ICIS), which took place in Germany for the first time in the 40-year history of the conference. At the Munich exhibition center, more than 2,000 researchers from the field of information systems exchanged current research results and discussed, especially, the effects of digitization on business and society. At the workshop of the Special Interest Group (SIG) Adoption and Diffusion of IT (ADIT), which took place within the framework of the conference, the Chair presented two current papers.
In Jessica Ochmann's presentation, the topic of fairness regarding the acceptance of AI in recruitment processes was discussed. The qualitative study, which is part of the project funded by the Adecco Foundation to investigate the acceptance of AI by candidates, examined the importance and dimensions of fairness for the acceptance decision of both candidates and companies. The study introduced fairness as a multi-level phenomenon and discussed its dimensions.
Prof. Dr. Sven Laumer presented the results of a study that was conducted together with Steven Alter from San Francisco and Christian Maier from the University of Bamberg. Based on five case studies, he presented a new perspective on user satisfaction and focused on the connections between work and information systems.
Sven Laumer also was honored as "Outstanding Associated Editor" during the conference. With this award, the conference organizers recognized his commitment to the conference. In the role of Associated Editor, he organized the review process for several submissions in the track "Future of Work", thus ensuring that authors received feedback on the content of the papers submitted. For his work and commitment he was therefore honoured accordingly at the conference.
The conference ended with a social event in the Löwenbräu-Keller, where national and international guests were able to experience the advantages of Bavarian cosiness, hospitality and cuisine.