Sven Laumer appointed as a Distinguished Member cum Laude of the AIS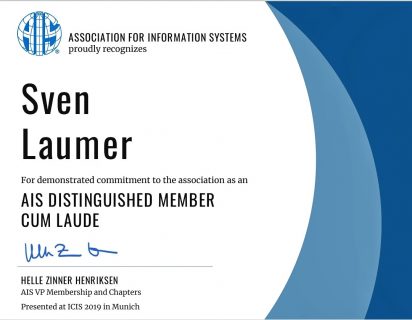 At the ICIS 2019 in Munich, the Association for Information Systems (AIS) honored some of its members for their long-standing commitment and research achievements in the field of information systems. The AIS thereby also honored the achievements of Prof. Dr. Sven Laumer over the last 10 years and declared him as a Distinguished Member Cum Laude. This award honors Prof. Laumer for his 10 years of membership in the AIS, but also recognizes his research contributions in the scientific journals and conferences of the AIS and acknowledges his commitment to the AIS. Sven Laumer has been a track chair at conferences such as the European or Amercias Conference on Information Systems (ECIS, AMCIS), as chairman of the Special Interest Group (SIG) Adoption and DIffussion of IT (ADIT), as Associated Editor of the Information Systems Journal or in other roles contributing to the success and networking of the international Information Systems community.
In the Handelsblatt ranking, he is listed as one of the 10 best business studies researchers under 40 and is among the top 100 professors of business studies in Germany. In the AIS Journal Ranking he is currently ranked 12th in comparison with his international colleagues in Information Systems (AIS 8, 2014-2018, ranked 44th if the number of people listed on rank 1-11 is included).
The appointment as a Distinguished Member cum Laude is intended to honor Prof. Laumer's research achievements and his commitment to the international Information Systems community. The award was presented at the ICIS 2019 in Munich by Helle Zinner Henriksen, Vice President of AIS.