"Seizing opportunities" – Interview with Prof. Dr. Sven Laumer in the DFB Refereeing Magazine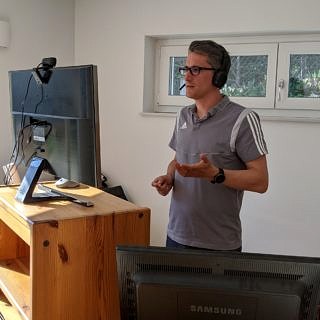 Prof. Laumer gave an interview to the DFB Refereeing Magazine under the motto "Seizing Opportunities" and showed how digitalization also offers options in amateur football and in particular in the refereeing sector to expand education and training to include new offerings. Due to the corona lockdown, a lot of new thinking had to be done in the refereeing area. Online training courses, online teaching evenings or online learning modules have not been in the focus so far. Due to the corona lockdown, however, the Bavarian Football Association has created various opportunities to use digitalization in this area as well and to establish it in the long term as a part of training and further education.
In an interview with the DFB Refereeing Magazine, Sven Laumer explains the concept for online training courses which he helped to develop. He also talks about the positive experiences in the use of online training courses and online learning modules. He describes the experiences of the last few weeks as a success, since, among other things, more than 350 participants in the online courses have completed training as football referees.
The interview can be read here.