Save the date: Online meetup for potential students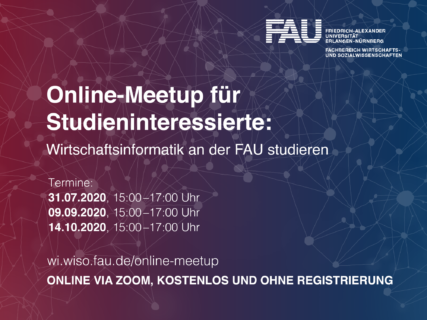 Save the date! The online meeting for potential students from the Institute of Information Systems of the Friedrich-Alexander-University Erlangen-Nuremberg offers pupils and other potential students the perfect opportunity to get to know the bachelor's degree program in Information Systems.
On a total of 3 dates you have the opportunity to join live. There you will learn first-hand from professors and students of Information Systems what to expect in your future studies. No matter whether you have attended computer science at school or not, whether you are undecided or curious: Everyone is welcome at our online meeting – without obligation and without prior registration!

Dates:
31.07.2020, 15:00 – 17:00 Uhr
09.09.2020, 15:00 – 17:00 Uhr
14.10.2020, 15:00 – 17:00 Uhr
Speakers:
Prof. Dr. Martin Matzner (Lehrstuhl für Digital Industrial Service Systems)
Prof. Dr. Sven Laumer (Schöller-Stiftungslehrstuhl für Wirtschaftsinformatik)
Representatives of the student representation FSI-WInf
Participation:
The meetup will be online via Zoom. Further information can be found on the following website: https://www.wi.wiso.fau.de/online-meetup/
We look forward to seeing you!