NIK Networking – Back to Office?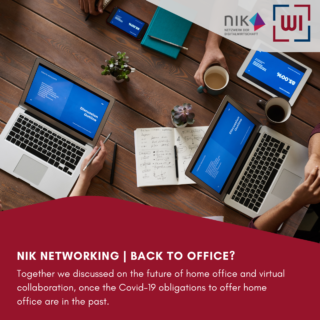 Due to the current Corona Occupational Health and Safety Ordinance, employers must allow employees to work remotely by April 30, provided the activities permit it. But what will be the aftermath of this requirement on home office work once the requirement is removed? Will all employees go back to the office to the same extent as before? Or will the trend be toward hybrid solutions in which home office continues to be part of everyday life? And what will be the consequences for collaboration, for the design of workplaces and for the use of business premises?
These and other questions were discussed by members of the NIK Digital Economy Network together with NIK board member Prof. Dr. Sven Laumer last Wednesday afternoon. For introduction he presented current research results on the topic of digital collaboration with an example from open-source software development and virtual teams.