WISO Meets Consulting: Lineup of partners set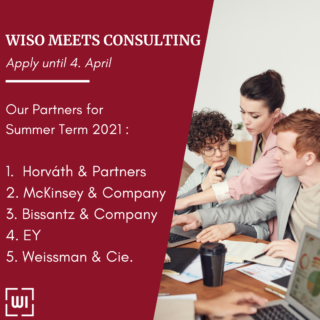 We are pleased to announce that the partners for this year's seminar WISO Meets Consulting at out our university are all set. Exciting contributions from renowned consulting firms will give students insights into the consulting practice and valuable impulses for their seminar performance. The series of keynotes will be kicked off by Horváth & Partners, followed by McKinsey & Company, Bissantz & Company, EY and Weissman & Cie.
During this seminar, students will be encouraged to develop new approaches and creative solutions to digitalization-related problems. In addition, students benefit from the experience of the partner companies and get to know the daily work routines of the consulting industry first-hand.
We cordially invite FAU students to apply by e-mail to Quirin Demlehner by April 4. More details on the WISO Meets Consulting seminar can be found here.