Eva Gengler, M.Sc.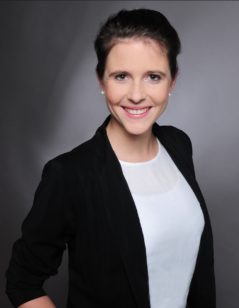 CV
Eva studied economics with a focus on business administration at Friedrich-Alexander-Universität Erlangen-Nürnberg from 2013 to 2016. During her time as a working student at Siemens Digital Factory, she already focused her work on IT. She continued on this path with her Master's degree in International Information Systems from 2016 to 2019 at FAU. Her six months in India at the Indian Institute of Management in Udaipur are particularly impressive. In addition to working as a product owner at Senacor Technologies AG, she was also involved in the Junior Consulting Team e.V. as a manager for process management. Eva discovered her passion for Artificial Intelligence (AI) in her master's thesis focusing on the ethical implications of AI in recruiting.
After graduating, Eva worked for BCG Platinion in Germany and abroad as an IT Consultant and was involved in a major HR transformation and digitalization of a Finnish gas company. Eva then took on the role of Business Analyst at CodeCamp:N – a spin-off of Nürnberger Versicherung and progressed into Product Management of the insurance group's most central IT project. She also took on the management function of the business unit with a focus on IT consulting. In May 2021, Eva transitioned into self-employment and took the lead on a project looking at the implications for women of AI in sex robots. This and another on this topic are co-funded by the EU. Eva is also a board member of erfolgsfaktorFRAU e.V., which promotes women's rights in business. Since 2022, Eva has also been co-founder of the young management consultancy enableYou.
Since November 2021, Eva is a PhD student in the International Doctorate Program: Business and Human Rights – Governance Challenges in a Complex World and research assistant at the Schöller Chair. Her research is dedicated to the problematic of human rights, especially women*s rights in the age of AI. Using a multi-level approach, she will address how discrimination against women* can be countered through a Feminist AI.
Publications
2023
Gengler E.,

Wedel M.

,

Wudel A.

, Laumer S.:
Power Imbalances in Society and AI: On the Need to Expand the Feminist Approach


18. International Conference on Wirtschaftsinformatik

(

Paderborn

,

18. September 2023

-

21. July 2023

)
In:

Proceedings of the 18th International Conference on Wirtschaftsinformatik

2023


BibTeX: Download
Schmalenbach K., Gengler E., Schötteler S., Laumer S.:
Unraveling Information-Limiting Environments: An Empirical Review of Individual, Social, and Technological Filters in Social Media


18th International Conference on Wirtschaftsinformatik

(

Paderborn

,

18. September 2023

-

21. September 2023

)
In:

Proceedings of the 18th International Conference on Wirtschaftsinformatik

2023


BibTeX: Download
2022