Participation at the virtual SIGMIS CPR Doctoral Consortium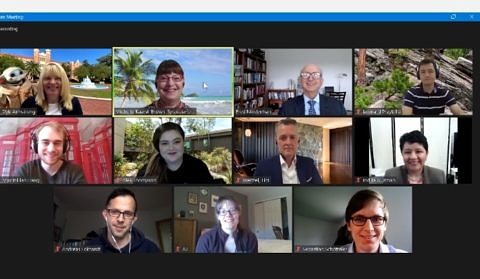 On June 10th, Sebastian Schötteler, an external postgraduate student at the Schöller Endowed Chair for Information Systems, attended the virtual SIGMIS CPR Doctoral Consortium 2020. This unique doctoral consortium program with almost an equal number of faculty and student participants allowed doctoral students to discuss their research with highly qualified faculty mentors and fellow consortium participants.
This year, five doctoral students and five faculty mentors came together to discuss the students' research topics, which reached from "participation patterns in augmented- and virtual-reality-based design ses-sions", "mass communication and fake news in social media", "social phenomena in IT projects", "retention of IT professionals in the IT industry" to "communication patterns in enterprise social media". The doctoral students received valuable feedback that addressed not only topic-related questions but further-more strategies to overcome common obstacles and challenges in doctoral research projects.
The doctoral consortium encompassed participants from different continents and time zones. Thus, this event serves as a good example of how digitally supported academic discussion, collaboration, and networking (especially in extraordinary times) can take place in a meaningful way.
For more information, please see here.