tutum as guest at ECCM!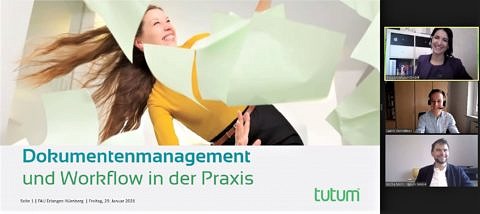 On Friday, 29.01.2021, Elisa Jakob and Micha Mohr from tutum GmbH were virtual guests in the lecture on Enterprise Content and Collaboration Management.
In the course, students are introduced to concepts for the design of digital work systems. The lecture is accompanied by a tutorial in which the students are shown two tools for enterprise content and collaboration management: SharePoint and DocuWare.
tutum itself uses DocuWare for document management solutions for its own customers, whereby the students are shown the benefits of the knowledge taught in the course by experts with a wealth of practical experience.
We would like to thank tutum for the insight into the everyday life of document management.