Chair Owner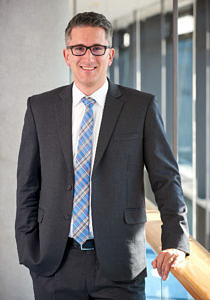 CV
Sven Laumer (born 1982) studied Information Systems at the Otto-Friedrich University of Bamberg and the Institute of Technology Tallaght, Dublin, Ireland, from 2002 to 2007. Subsequently, he worked both as a research assistant and as an academic councilor at the Chair for Information Systems, esp. Information Systems in Service Areas, at the University Bamberg, where he was also vice-director of the Centre of Human Resources Information Systems (CHRIS).
He was awarded a PhD in 2012 for his work on resistance to IT-related change. In 2014, he was a visiting scientist at the Cognitive User Experience Lab in the Watson Research Lab at IBM Research in Cambridge, USA. In 2017, he was awarded a teaching license in Information Systems by the University Bamberg for his habilitation "The Digitalization of Work and Life: Empirical Studies of its Bright and Dark Sides". This was also awarded the MLP Young Researcher Award of the Association of University Teachers of Business Administration (VHB) in 2018. Also since 2018, he holds the Schöller Endowed Chair of Information Systems, in particular Digitalization in Business and Society, at the Friedrich-Alexander University Erlangen-Nuremberg.
His research and the research of the entire chair places people at the center of digitization. This is also reflected in the three main research areas of digital collaboration, challenges of digitalization and people analytics. The results of this research are regularly the subject of top international publications, including more than 20 different A+ or A publications according to the VHB Jourqual3 ranking, which is common in Germany. According to Wirtschaftswoche, Sven Laumer is thus one of the five best management researchers under 40 in the German-speaking world, as well as one of the top 10 percent in the age-independent ranking. In the ranking of the international information systems association AIS, he is listed in 39th place worldwide.
In addition, this research is characterized by a very high practical utility value. For example, in the course of the Corona pandemic, the work on teleworking and home office, which is part of the research focus on digital collaboration, recently became the focus of media coverage. However, Sven Laumer is also a welcome discussion partner for media and business representatives on all other aspects of the chair's research. This includes, for example, projects, workshops and contributions on digitization in HR, technostress, successful change management in the course of digitization or the acceptance of artificial intelligence (AI) by people in their working environment.
Awards
Leonard Michels

,

Kathrin Schmitt

,

Jessica Ochmann

,

Sven Laumer

,

Verena Tiefenbeck

: Best Full Research Paper - Runner-up award (European Conference on Information Systems (ECIS)) – 2021

Sven Laumer

: AIS Forschungsranking 2021 - WI-Professoren-Ranking hinsichtlich ihrer Publikationen 2016-2020 im AIS Senior Journal Basket of Eight, Platz , 39 (Association for Information Systems) – 2021

Jessica Ochmann

,

Sandra Zilker

,

Sven Laumer

: Nominierung für Best Paper Awards (WI21 - 16. Internationale Tagung Wirtschaftsinformatik) – 2021

Sven Laumer

: BWL-Ranking 2020 - Autorenranking (Publikationen 2016-2020), Platz 108 (Top 5%) (WirtschaftsWoche) – 2020

Sven Laumer

: BWL-Ranking 2020 - Lifetime-Ranking, Platz 196 (Top 10%) (WirtschaftsWoche) – 2020

Sven Laumer

: BWL-Ranking 2020 - Forscher unter 40, Platz 5 – 2020 (WirtschaftsWoche) – 2020

Sven Laumer

: AIS Forschungsranking 2020 - WI-Professoren-Ranking hinsichtlich ihrer Publikationen 2015-2019 im AIS Senior Journal Basket of Eight, Platz 11 (Platz , 39 wenn die Anzahl der auf Platz 1-10 gelisteten Personen mitgerechnet wird) (Association for Information Systems) – 2020

Sven Laumer

: Outstanding Associated Editor (International Conference on Information Systems, München) – 2019

Sven Laumer

: AIS Forschungsranking - WI-Professoren-Ranking hinsichtlich ihrer Publikationen 2014-2018 im AIS Senior Journal Basket of Eight, Platz 12 (Platz 44, wenn die Anzahl der auf Platz 1-11 gelisteten Personen mitgerechnet wird) (Association for Information Systems) – 2019

Sven Laumer

: BWL-Ranking 2019 - Autorenranking (Publikationen 2014-2018), Platz 92 (Top 5%) (WirtschaftsWoche) – 2019

Sven Laumer

: BWL-Ranking 2019 - Forscher unter 40, Platz 6 (WirtschaftsWoche) – 2019

Sven Laumer

: AIS Distinguished Member cum Laude (Association for Information Systems) – 2019

Sven Laumer

: BWL-Ranking - Lifetime-Ranking, Platz 137 (Top 5%) (WirtschaftsWoche) – 2019

Sven Laumer

: Nominierung für Best Paper Awards (51st Hawaii International Conference on System Sciences (HICSS), Waikoloa, Hawaii) – 2018

Sven Laumer

: MLP-Nachwuchspreise des Verbandes der Hochschullehrer für Betriebswirtschaft e.V. für bemerkenswerte Publikationen (Verband der Hochschullehrer für Betriebswirtschaft e.V.) – 2018

Sven Laumer

: Nominierung für den Most Innovative Short Paper Award (38th International Conference on Information Systems (ICIS), Seoul, South Korea) – 2017

Sven Laumer

: Preise für gute Lehre 2015 an den staatlichen Universitäten in Bayern (Bayerisches Staatsministerium für Bildung und Kultus, Wissenschaft und Kunst) – 2016

Sven Laumer

: Nominierung für Best Paper Award (24th European Conference on Information Systems 2016, Istanbul) – 2016

Sven Laumer

: One of the 5 most highly cited papers published in Journal of Strategic Information Systems (The Journal of Strategic Information Systems) – 2016

Sven Laumer

: Preis für gute Lehre der Universität Bamberg (Otto-Friedrich-Universität Bamberg) – 2015

Sven Laumer

: Preis für gute Lehre der Fakultät Wirtschaftsinformatik und Angewandte Informatik (Otto-Friedrich-Universität Bamberg) – 2015

Sven Laumer

: Nominierung für Best Paper Award (Special Interest Group on Adoption and Diffusion of Information Technology (DIGIT) (Pre-ICIS Workshop), Forth Worth, TX, USA) – 2015

Sven Laumer

: BWL-Ranking 2014 - Forscher unter 40, Platz 59 (Handelsblatt) – 2014

Sven Laumer

: Nominierung für den WIAI-Fakultätspreis für gute Lehre (Otto-Friedrich-Universität Bamberg) – 2014

Sven Laumer

: Robert W. Zmud Best Reviewer Award des DIGIT Workshops Adoption and Diffusion of IT (AIS Special Interest Group) – 2013

Sven Laumer

: Best Reviewer Award der 75. Jahrestagung des Verbands der Hochschullehrer für Betriebswirtschaft (Verband der Hochschullehrer für Betriebswirtschaft e.V.) – 2013

Sven Laumer

: Nominierung für Best Paper Award (20th European Conference on Information Systems 2012, Barcelona) – 2012

Sven Laumer

: Promotionsförderpreis der Universität Bamberg (Otto-Friedrich-Universität Bamberg, gestiftet durch die Sparkasse Bamberg) – 2012

Sven Laumer

: Zertifikat Hochschullehre Bayern 2011 (Zentrum für Hochschuldidaktik) – 2011

Sven Laumer

: Adoption and Diffusion of IT DIGIT 2011 Doctoral Award (AIS Special Interest Group) – 2011

Sven Laumer

: Magid Igbaria Outstanding Conference Paper of the Year 2011 Award (ACM SIGMIS) – 2011

Sven Laumer

: Doctoral Consortium (18th European Conference on Information Systems (ECIS), Pretoria, South Africa) – 2010

Sven Laumer

: Nominierung für Young Researcher Award (Internationale Tagung Wirtschaftsinformatik, Wien) – 2009
Talks
2022
2021
2020
2019
2018
2017
2016
2015
2014
2013
2012
2011
2010
2009
2008
2007