Successfully working from home: Theories, empirical studies, and hypotheses on the post-Corona era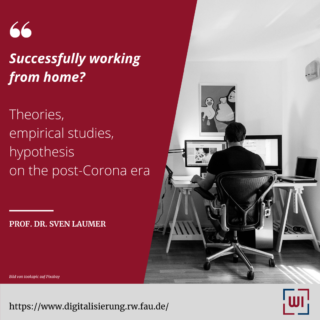 In a first of several appointments, Prof. Dr. Sven Laumer discussed the research at the Schöller Endowed Chair on teleworking ("Home-Office") with company representatives. In the virtual roundtable, he first presented theories and empirical studies from recent years that explain which activities we understand by the term "work" and how these can be supported by information and communication technology. Subsequently, he reported on study results of the chair team, which show which different aspects must be considered to design virtual work and especially telework (Home-Office) successfully in companies. Finally, he derived nine hypotheses for the post-Corona era from these considerations, which role telework and virtual work will play in the post-Corona era.
During the lockdowns, telework (home office) was successfully implemented because teams and projects with many years of experience in particular were forced to switch to a virtual work environment at short notice. Also, the coercion or "crisis mode" was one of the reasons why telework (home office) challenges were not as present. After the Corona pandemic, it will be a question of the task itself, the dependency of individual tasks, the trust within the respective teams, and whether it is a new or existing project or team that will influence whether telework (home office) will remain or be a successful part of work arrangements.
With our research, the Schöller Endowed Chair for Information Systems aims to contribute to a discussion in science, politics and the general public about the importance of the place "office" in the future and how the challenges of the "home office" can be well designed. These findings should also be taken into account when considering whether there should be a right to work from home for employees in companies. The discussions and the results of the pre-Corona period suggest that the place "office" will continue to be of great importance. However, the experiences during Corona also show that many positive experiences could be made in the home office and in virtual work settings. Depending on the task and industry, it depends on the right mix of office- and telework, so no general recommendation can be made for one or the other. The characteristics and challenges of the respective context must be taken into account. This is the core of our research on the future of work.