Media Literacy at FAU: Using social networks properly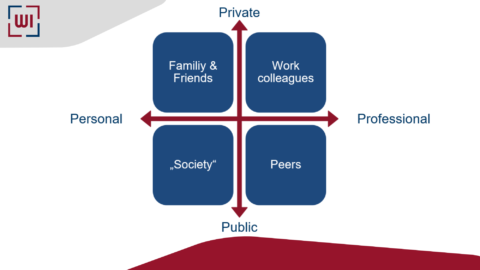 With our chair's module "Media Literacy", students not only learn basic knowledge of new media, they are also encouraged to rethink their own presence on social platforms. It's important to know which network can serve which goal and address which target group.
The adjacent graphic provides information on which groups of people can be reached via different social networks. Depending on what pillar you choose to focus on, your social media strategy and the goals behind it can differ. The "LinkedIn" network, for example, is part of the "Peers" pillar and for this reason should be optimized precisely for this target group.
Together with the students, Prof. Laumer discussed yesterday how to frame their own strategy and how to adjust in each quadrant how to use different plattforms for different purposes. The students can apply this knowledge in their private lives beyond the lecture. We thank Daniel Schömer and Patrick Meyer for organizing the seminar this semester!